Here are our favorite Crete beaches to spend a long day under the sun with your family and friends.
Balos Beach
Balos is undoubtedly the most magnificent and photographed beach on the island. Its exotic waters, soft white sand, and gorgeous landscape amaze the visitors at first sight making them feel like they are in the Caribbean. If you are lucky enough, you might also see a loggerhead sea turtle!
Esmae is a luxury villa just 15km away from the Balos beach that can accommodate up to 10 guests.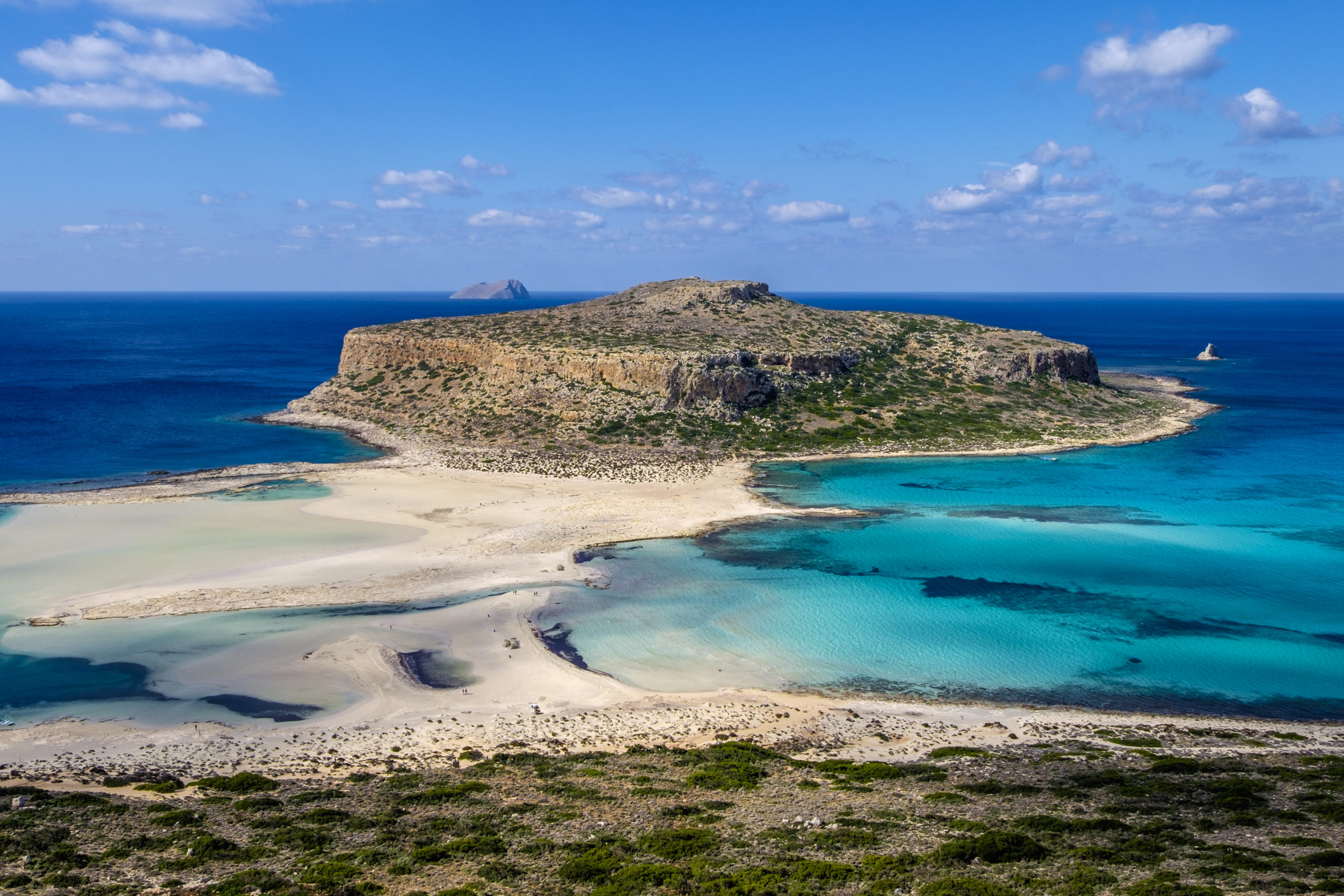 Source:GreekBoston
Falassarna Beach
Falassarna is a large sandy beach ideal for families due to its shallow and turquoise waters. The beach is popular as well among windsurfers and as a matter of fact, there is a windsurfing station there during summer. You can also do many other watersports at the beach.
To enjoy Falassarna at its fullest, stay at Renata an elegant 3-bedroom villa less than 1 km away from the beach.
Source: Autocreta
Matala Beach
Matala stretches over 300 meters and is situated within a picturesque bay surrounded by rocky cliffs with caves. The beach is known since the mid-'90s for its hippie character. Nowadays, Matala is one of the most popular organized Cretan beaches with many seaside restaurants and cafes.
Circe is the perfect vacation villa for a family just a 10-minute drive away from Matala beach.
Source: Matalaholidays
Seitan Limani
Seitan Limani or Agios Stefanos beach is the most popular one of Chania. It is a narrow cove of deep azure waters with beautiful sand and pebbles protected from the winds and waves. To get to the beach there is a steep path starting from the parking area that leads to the beach, so make sure to wear sneakers.
Angelique offers easy access to Seitan Limani and Chania Town, just perfect for a group of 16 that want to explore the island.
Source: Greecehighdefinition
Almyros Beach
Almyros is a beautiful sandy beach at the mouth of the namesake river that flows all year round, forming a unique wetland with eucalypti, palm trees, and rare aquatic birds. The area has many beach bars and restaurants as well as a small cove. Keep in mind that due to the river the waters may be a little bit cold at times.
If you are looking for a seaside villa, then Myrto is the one for you! A stunning property literally a few steps away from Almyros beach.
Source: Pinterest
Marathi Beach
In case you want a relaxing beach away from the crowds you should visit Marathi, a small cove just 14 km east of Chania. The beach is organized with golden sand and crystal-clear waters, mainly preferred by the locals.
Luna is a luxury 5-bedroom property of cutting-edge amenities just 5 minutes away from Marathi.
Source: Kidslovegreece
Browse our full Crete collection to find your dream villa. All our villas have enhanced on-site Covid-19 standards and a flexible date policy for a carefree holiday vacation.